May 2018 Newsletter
A member of the Roseville Coalition of Neighborhood Associations
High School Ground Breaking!!!
Wednesday, May 30
10 AM

-

11 AM


Please join the Roseville Joint Union High School District and Turner Construction as we break ground on West Park High School.

Chilton Middle School band will perform.

Please RSVP here: http://bit.ly/WPHS2018
West Park High School, home of the Panthers
Update from
Roseville Joint Union High School District

.
The presentation from the April 5th steering committee meeting for West Park High School can be found here.
The West Park High School has its groundbreaking on May 30th (see above). Take a fly over tour of the phase 1.
The new school is designated to open August of 2020. More information about West Park High School can be found on our website here.
"Sierra Crossing Park" (W-50A) Neighborhood Park Site - Projected start of construction is spring 2018
Click below to read the meeting minutes from the public workshops that were held regarding this park:
Meeting Minutes 9/30/2016
Meeting Minutes 10/4/2016
Location:
Brookstone Dr. off Westbrook Blvd.
Timeline:
This project is out to bid with bids due on May 2, 2018.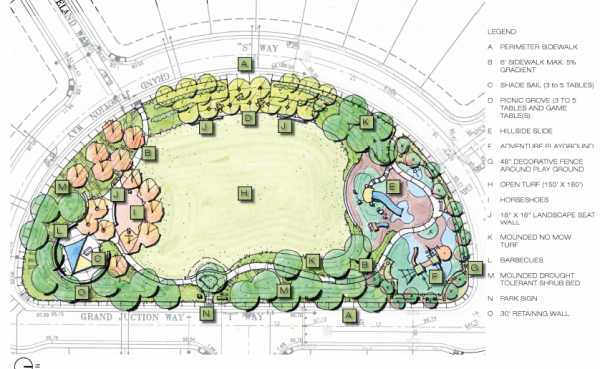 "Astill Park" (W-50B) Neighborhood Park Site - Projected start of construction is spring 2018, Project is currently out for bid.Click here to add a title or text.
Location:
Grand Junction Way off Westbrook Blvd


Description:
1.9 acre neighborhood park. This park will be built by Pulte Homes on behalf of the City.

Timeline:

On March 7, 2018, an amendment to the Park Development Agreement between Pulte Homes and the City of Roseville was approved for Astill Family Park (W-50B), a 1.5 acre park located within the Westpark master planned community. Under the previous agreement, Pulte Homes was to build the park as part of its Primrose community construction. With Pulte's home development construction winding down in the community, it has been determined that the City will construct the project. As part of the standard development requirements, Pulte has provided funding to cover costs associated with the park project. Pulte will be clearing the project site in anticipation of the start of construction. Park construction is anticipated to begin by the end of May 2018 and targeted to open in late winter/early spring 2019.

"Richard and Pauline Roccucci Park" (W-51) Neighborhood Park Site - public input meetings underway. Parks and Recreation Commission for the Master Plan: May 7, 2018, 7 PM at Council Chambers.
Location:
Symphony Avenue and Chorus Avenue

"Nela Luken Park at the Village Center" (W-54) - Target start of construction Spring/Summer 2018. Basic earthwork as part of the housing development has begun. Work is weather dependent.
Location:
Pleasant Grove Blvd between Village Plaza Drive and Village Center Drive

Status:
The concept plan was developed in 2009 and approved by the City Council in February 2010. It is not slated to move forward due to funding and ongoing maintenance obligations. The site is intended to compliment the surrounding commercial area. No movement on the commercial development has occurred to date.

Public Meeting:
Click below to read the meeting minutes from the public workshops that were held regarding this park.
Meeting Minutes 6/20/17
Meeting Minutes 10/16/17

"Laurel T. Stizzo" (F-50) Park Site
Location:
4151 Brick Mason Circle

Public Workshops:
Click below to read the meeting minutes from the public workshops that were held regarding this park:
Meeting Minutes 9/30/14
Meeting Minutes 1/22/15
Meeting Minutes 6/2/15

Description:
8 acre school/park site adjacent to Fiddyment Farm Elementary School. The Master Plan was approved by the City Council on Wednesday, September 2, 2016. The Master Plan proposal includes a children's play area, concrete pathway, independent exercise stations, a picnic area and open turf for various sports.

Timeline:
The project is scheduled to be completed in late spring 2018. Park is under establishment.
"Denio Family Park" (F-54) Park Site - public input meetings underway
W = WestPark Park, F = Fiddyment Park
Download the Land Use plan here for locations.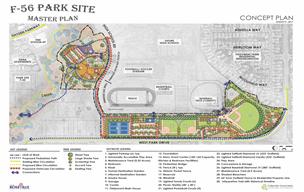 "Pistachio Park." & Historic Fiddyment House" (F-56) Park Site - unknown construction timetable
CEQA review for the master plan is underway. Plans for stabilization efforts of the house are under review by the Building Department.
Location:
Westpark Drive and High School Road

Park site description:
City-wide park adjacent to the future high school.

Historic Fiddyment house:
This is the original homestead of the Fiddyment family. An architect will be hired to review the home and make recommendations for future restoration projects.
Public Workshops:
Click below to view the PowerPoint from the public workshop #1 that was held regarding this park on 5/4/17:
Public Workshop Summary
Public Workshop PowerPoint 5/4/17
Click below to view the Summary and PowerPoint from the public workshop #2 that was held on 6/29/17
Public Workshop Summary
Public Workshop PowerPoint 6/29/17
Fiddyment Historic House Conditions Assessment

We have posted the latest version of the master plan based on the last public workshop and follow-up meetings with key stakeholders.

New commercial Permits issued (in our neighborhoods)
• Westpark Village (W-15) - Request for a Design Review for Residential Subdivision for 62 finished lots at Westpark Phase 3 Village 15B.
• The Plaza at Blue Oaks (F31) - Request for a Tentative Parcel Map to subdivide the existing 13.35 acre parcel into three (3) separate parcels; a Design Review Permit to construct a commercial center consisting of a 35,000 SF anchor grocery store, a 20,000 SF major retail store, a gas pad, and seven (7) buildings for various shops and restaurants, with associated parking and landscaping; a Tree Permit to remove native Oak trees on the project site.
We will keep you apprised of the progress on these permits. Both have been asked to come to a neighborhood meeting to present and answer neighborhood questions.

UPCOMING CITY MEETINGS
City Council Meeting - 7 p.m., Wednesday, May 23
Parks and Recreation Commission Meeting - 7 p.m., Monday, June 4
Transportation Commission Meeting - May meeting canceled
Public Utilities Commission Meeting - 7 p.m., Tuesday, May 22
Unless otherwise noted, Council and Commission meetings are held in the Roseville City Council Chambers at 311 Vernon Street. Meetings held in the City Council Chambers can be viewed live online or later on demand.
What's Bugging you?
Saturday, June 9
10 a.m. - noon
$6 Roseville res. / $8 non-res.
Find out more.
Irrigation 101
Saturday, July 14
10 a.m. - noon
$6 Roseville res. / $8 non-res.
Find out more.

MOMS Club Roseville West

Founded in 2001, the Roseville West Chapter of MOMS Club was created to provide a support system to both stay-at-home moms and working part-time moms. Mothers have an opportunity bond with other mothers and get involved in community service. The Club is an official chapter of the national and international MOMS Club, an organization that serves over 100,000 mothers in over 2,000 chapters.
A variety of activities on different dates and times are available each month to club members – you can pick and choose what works best for you and your schedule! Members and their families are welcome to attend many wonderful events including: field trips, tours, age-based playgroups, park play dates, holiday parties, the ever-popular moms' nights out, and many more fun activities which provide a great platform for bonding between kids and parents.
Community service and working with local charities is also a huge part of the chapter efforts. MOMS Club® is a nonprofit corporation and a 501 (C) (3) publicly-supported charity registered with the IRS. The Club conducts several service projects throughout the year, including a monthly Coffee for Cause event where a specific charity/need is identified and items are donated towards. In September, funds were collected to help those in need after the devastation caused by Hurricanes Harvey and Irma. The Club also holds their Quarter Craze fundraiser each year, raising $6,855 this year for StandUp Placer.
In 2017, the Roseville North and West chapters of MOMS Club merged into one club serving the zip codes of 95678 & 95747. In addition, the club also welcomes moms from 95843 (Antelope) and 95648 (Lincoln). If you are interested in becoming a part of this wonderful community of mothers, please email momsclubofrosevillewest@hotmail.com for more information.


Register for the Alert Roseville Emergency Notification System
(from the City of Roseville)
If we can't reach you…We can't alert you. Alert Roseville is a new emergency notification system to alert you about emergencies and other important community news. The system enables officials to provide essential information quickly when there is a threat to the health or safety of you and your family.
In addition to emergency information, you may:
• Select to receive messages regarding crime alerts, road closures, public meetings or other community events;
• Choose the locations you want to be contacted about ‐ such as your parents' home, your workplace and your child's school;
• Receive alerts on your home phone, cell phone, work phone, email, text, fax or instant messaging.
The success of this service relies on you. The Alert Roseville database currently includes some landline, Voice over Internet Protocol (VoIP) and cellular telephone numbers. To ensure that we have your contact information and the preferred method you would like us to contact you, please register by clicking the link below. if you have any questions please contact the Roseville Fire Department at (916) 774-5808 or email at fire@roseville.ca.us . All information you provide will be kept strictly confidential.
Alert Roseville is a free service provided by the City of Roseville and participating cities. Call and text messaging charges may apply when you receive alerts, depending on your cellular provider and calling plan.

Police Encourage You to Stay-Connected

If you are not already receiving police and crime updates from the Roseville Police Department, here's how to sign up:

1.Go to the City of Roseville's website here
3.Check "Public Safety and Neighborhood News," and any other City publications you're interested in. Fill out the information with your name, email address and any password you want, and hit "submit".
4.You'll automatically receive bulletins in your email at least once a week for as long as you want to subscribe.

WestPark Neighborhood Association Monthly Meetings
are usually held the 2nd Tuesday of every month at 7:00 PM. During the school year, we will meet at Chilton Middle School - Library. During the summer (July and August) we meet at St John's Episcopal Church. You can always find the latest information on our website: https://wna.rcona.com/board-meetings/
The public is always invited and may view the agenda the Sunday before each meeting on the WestPark Website. An assigned Roseville Police Officer tries to be present at the beginning of each meeting (subject to duty calls) to respond to any questions you might have.

If you have any comments or would like to have any matters placed on the agenda, please contact us here. This is your association, and we appreciate your input and participation.

Share the News...
Please do not assume your neighbors are receiving these important neighborhood updates. Please tell your neighbors about our website and/or forward this newsletter via email to help assure all WNA neighbors are informed and alerted of these important neighborhood activities. Your support in the safety and quality of OUR neighborhood is greatly appreciated!